What Does MiaRec Bring To Five9 Customers?
6 min read
April 18, 2023 at 12:17 PM
With several solutions on the market all promising to better your contact center, how are you meant to choose? How does MiaRec compare to Five9? Are they offering the same solution or can they be integrated with each other?
MiaRec and Five9 provide different solutions that can be integrated together. As a Voice Analytics solution, MiaRec has helped many contact centers utilize the call data they've gained with their Five9 CCaaS platform. It's important to us that contact centers use any solution they adopt to the fullest of their capabilities.
In this article, we will review the differences between MiaRec and Five9, their best use cases, and more. Discover how you can achieve your business goals with both solutions. We've also included additional resources and next steps below.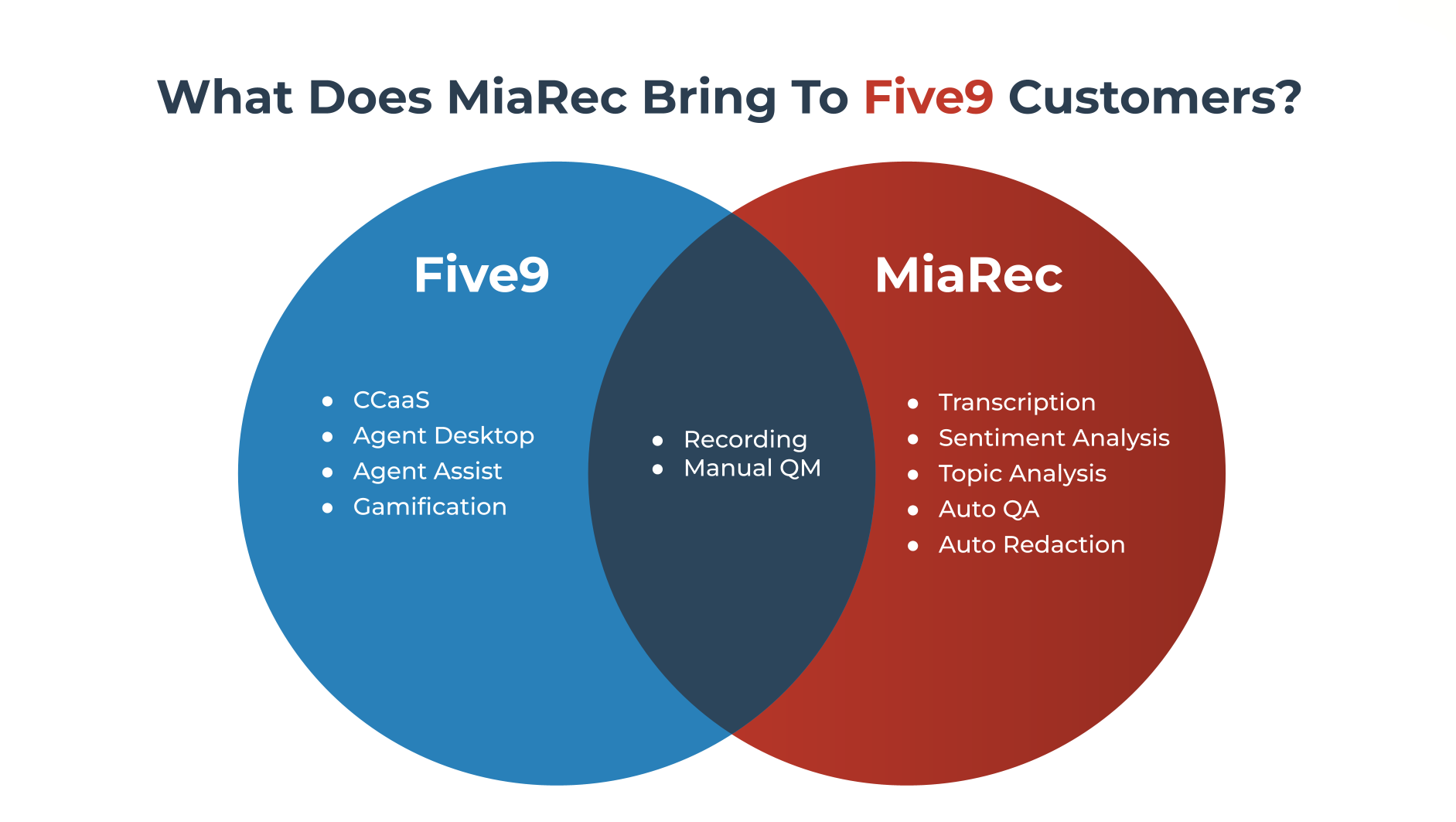 What Is Five 9?
Five9 is a great cloud-based Contact Center as a Solution (CCaaS) platform that offers several workforce optimization (WFO) solutions to increase business agility. Enable your agents with the tools they need to lead omnichannel experiences.
Five9 developed its own inbound and outbound platforms to create the Blended Contact Center. You can also scale with Five9; they offer services to help migrate your on-prem contact center onto Cloud.
What Does Five9 Offer?
Five9 offers secure workforce management solutions from self-service options to performance analytics. Agents can use Five9's real-time reporting applications to boost productivity and customer experiences.
Five9 Blended Contact Center enables agents to manage inbound queues and outbound calling lists. Agents working on outbound campaigns are assigned inbound calls during peak inbound traffic. When inbound traffic is low, agents can focus on automated outbound calls.
Streamline agent workflows by automating follow-up calls and outbound calling operations. These are only a few examples of what Five9 contact center can do, see the image below for more features.
Image: A screenshot from Five9's Blended Call Center Solutions website.
Five9 can integrate with Salesforce, Microsoft Dynamics 365, Zendesk, and more.
What is MiaRec?
MiaRec is a cloud-based Conversation Intelligence and Auto QM solution. With MiaRec, you can capitalize on your untapped call data. Improve customer experiences for happier customers, increased ROI, and higher agent morale.
What Does MiaRec Offer?
MiaRec provides Conversation Intelligence and Voice Analytic solutions to streamline and automate compliance and quality management processes in contact centers. MiaRec also provides call recording, screen capture, and traditional Workforce Optimization (WFO) services such as quality management and reporting capabilities.
Extract Data-Driven Insights with Topics and Sentiment Analysis
You can combine Five9's call center analytics software with MiaRec's Topics and Sentiment analysis to detect trends and patterns. You can use customizable keywords to identify good and bad customer interactions, from common customer concerns to popular products.

Using Topics and Sentiment analysis is not only an effective way to support agent interactions; they can also extract meaningful business insights. You can discover emerging business opportunities or proactively address customer complaints. By using MiaRec's analytics features, you can track actionable insights to support high-level business decisions.
Automate Call Scoring with MiaRec Auto Score Card
Modern contact centers are complex organizations with several different moving parts, and it can be difficult to keep track of everything. In addition to Five9's performance management solutions, you can use MiaRec's Automatic Score Card to get a complete picture of your agents' performances.

Manual quality assurance can be time-consuming, tedious, and prone to human bias. MiaRec's Automatic Score Card grades all of your agents' interactions almost instantly, and provides personalized feedback. You can measure performance trends over time, identifying training gaps and room for improvement along the way.
Automating call scoring means you will have an easier, faster, and more cost-effective time grading calls than with a manual process. Want to know just how much you could save by automating your quality management processes? Try out our free ROI Calculator here.
Ensure Compliance with Auto Redaction and More
As a Five9 partner, MiaRec takes extensive measures to meet compliance guidelines from PCI-DSS to HIPAA regulations. Our platform not only includes password protection and role-based access; we also use file watermarking, 256-bit encryption, and audit trail.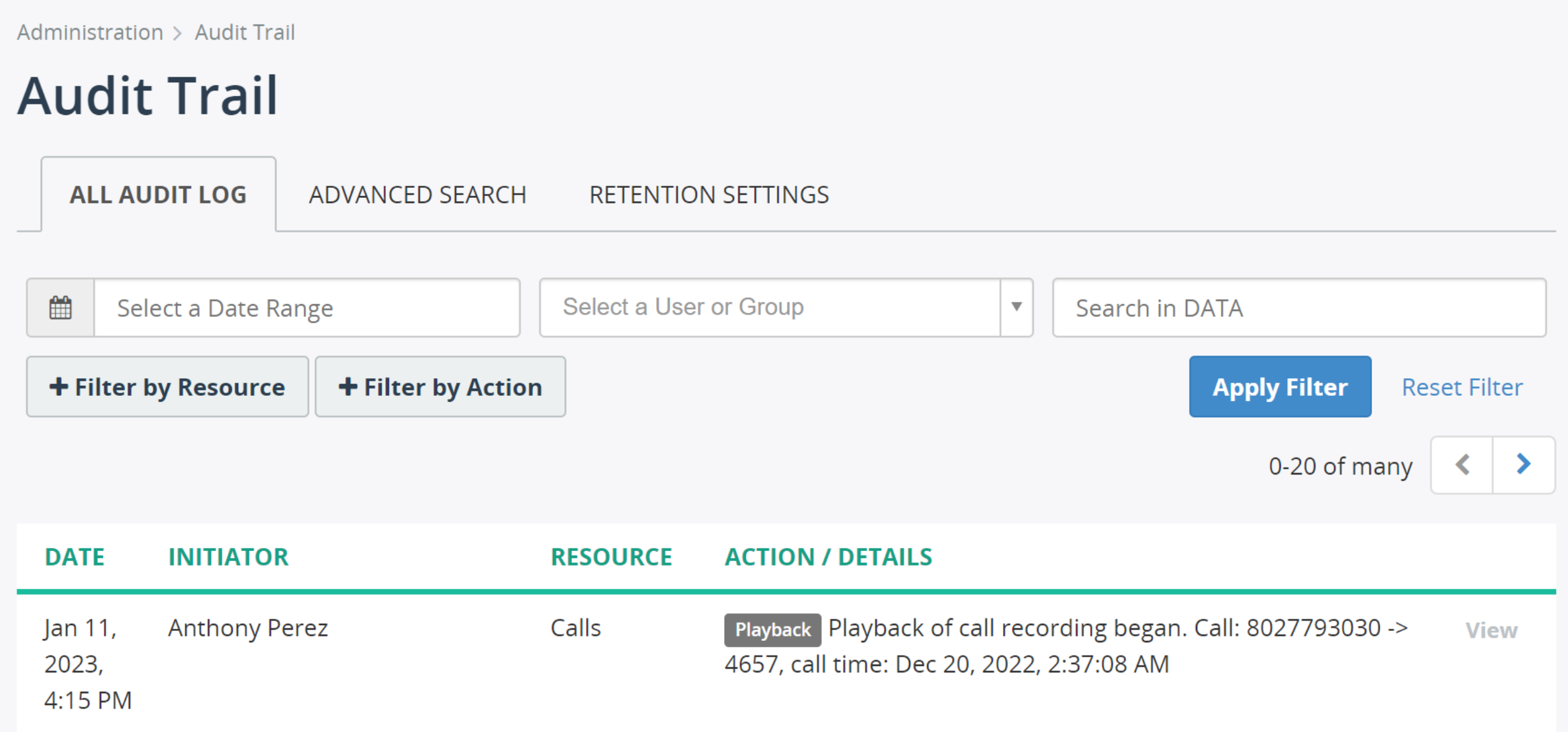 You can secure your call data with MiaRec Auto Redaction. Auto Redaction automatically removes sensitive information such as credit card numbers, birthdays, and SSNs from call transcripts and their corresponding audio. There's less room for human bias and error, especially when compared to manually pausing conversations.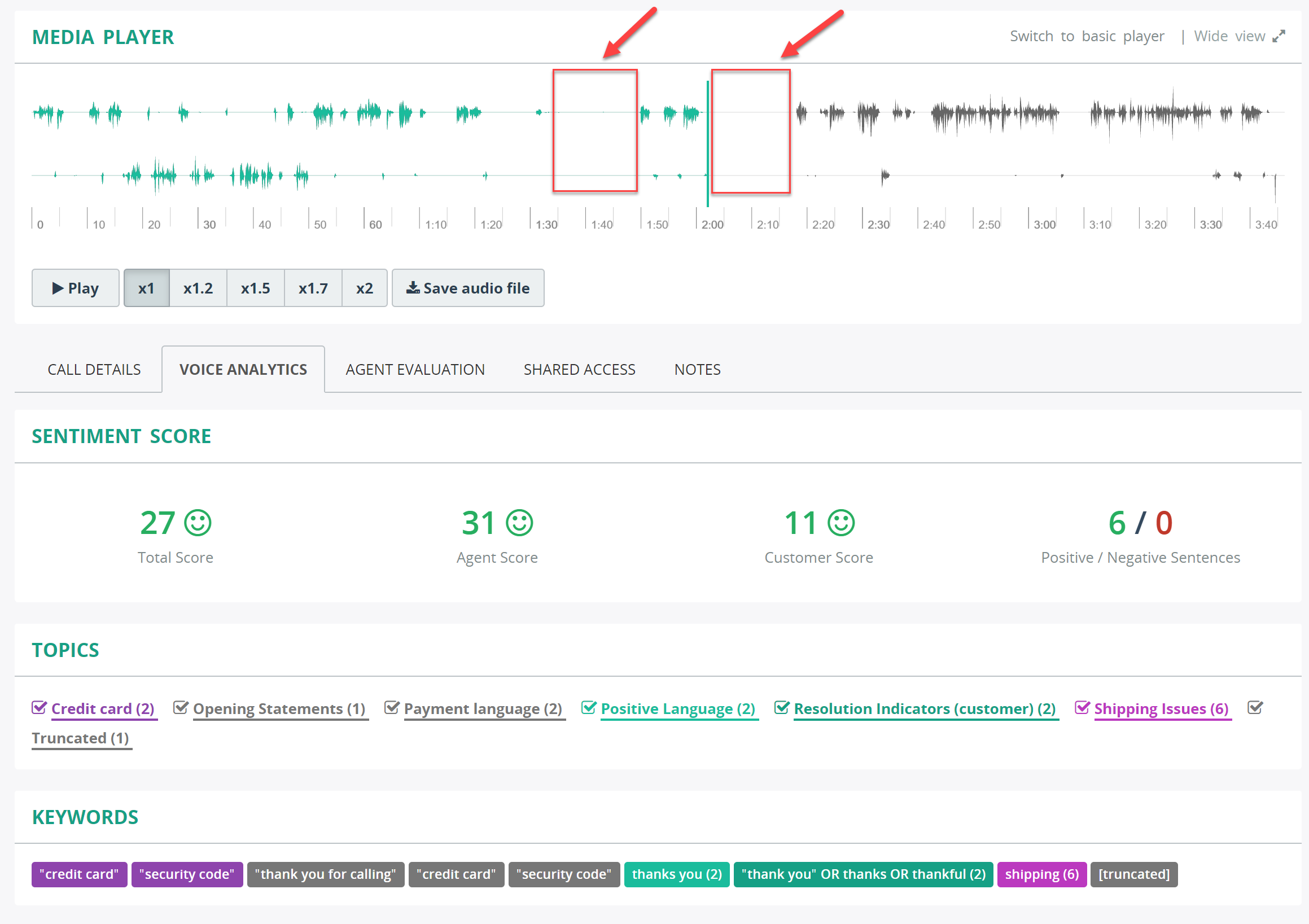 Screen Recording, Live Sharing, Topic Analysis, Sentiment Analysis, and Auto Redaction are all available in MiaRec's enterprise packaging for $78 USD/month/user or $65 USD/month/user if paid annually.
How MiaRec Integrates With Five9
With our plug-and-play deployment model, we are a scalable solution for larger contact centers. Compared to traditional deployment models that may take months, you can be fully integrated in as soon as 24 hours.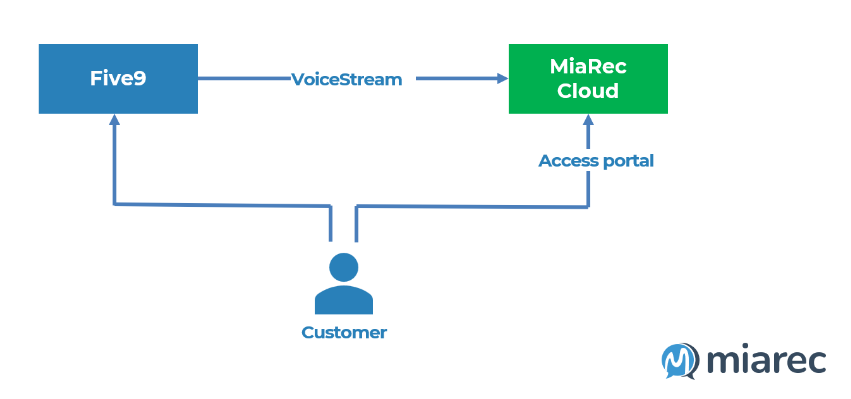 As a Five9 partner, we integrate with Five9 VoiceStream through an SIP stream connection. The integration uses SIP Protocol with separate SIP streams for the Agent & for the caller. CTI events are linked to real-time audio streams through domain and call ID from SIP headers and call event metadata.
MiaRec For Five9: Our Joint Solution
Five9 provides a variety of CCaaS solutions to cater to the needs of your contact center. Also, both MiaRec and Five9 provide WFO services that can improve manual Quality Assurance processes.
As a Five9 partner, MiaRec focuses on Conversation Intelligence and Voice Analytic features like topic and sentiment analysis, as well as Auto QA capabilities. We recommend MiaRec for Five9 customers looking to automate QM processes and get the most from their data. Our plug-and-play deployment method means we can be easily integrated with most CCaaS solutions.
MiaRec and Five9 work together to scale your contact center for today's customers. By integrating MiaRec with a Five9-based contact center, you can turn your newly gained contact center data into actionable insights and much more.
Integration and Pricing
While Five9 doesn't have a pricing page, they will work with you to find a solution at a price range that meets your needs. Get a quick quote from them here.
You can access all of MiaRec's features, such as topics analysis and auto-redaction, at $78 USD/month/user. We offer a 20% discount if paid annually.
MiaRec integrates with Five9 through Five9 VoiceStream. You can also procure MiaRec directly through Five9.
Conclusion
MiaRec and Five9 have partnered together to provide an innovative joint solution for our mutual customers. The possibilities are endless: streamline manual QA processes, discover qualified leads, analyze customer sentiment, and more. Make the most of both solutions' unique features.
If you'd like to try Five9 on its own, register for a demo on their website. If MiaRec is more aligned with your needs, try out our free online demo.