Are MiaRec's Cloud-based Voice Analytics Solutions Secure?
5 min read
August 1, 2023 at 8:00 PM
As you consider Voice Analytics solutions for your contact center, you want to know if MiaRec's cloud-based Voice Analytics solution is secure. How will MiaRec use your data? Will we use your data to train our AI models?
At MiaRec we have helped hundred of contact centers to utilize their call data to transform customer experience and automate compliance processes, all while ensuring the data is fully secured.

This article will discuss why MiaRec Voice Analytics functionality is available as cloud solution and how MiaRec's solutions utilize your data. You will learn how MiaRec Voice Analytics ensures call compliance and securely analyzes your calls to gather quality insights.
Should My MiaRec Voice Analytics Solution Be On-Prem or Cloud-based?
Regardless of whether you have a cloud-based or on-prem contact center, our AI-driven Voice Analytics and AQM solutions is normally hosted on cloud due to the economies of scale. By hosting our solution on cloud, we can make our services and features affordable to contact centers of all sizes. Otherwise, only enterprise contact centers could afford an on-prem AI-based MiaRec solution.
We are responsible for managing your cloud-based MiaRec Voice Analytics solution. This means you will not need a dedicated in-house maintenance team, making it much faster, easier, and cheaper to install, maintain, upgrade, and secure your MiaRec software than with an on-premise Voice Analytics solution.
MiaRec's AI models are constantly developing and due to the nature of AI technologies need fast updates; we are always working with and improving upon our AI model to provide you with the latest in Voice Analytics and AQM technology. Hosting MiaRec on cloud allows us to enhance MiaRec and implement our innovations at a much faster pace than would be possible with an on-premise setup. However, we will cater to each contact center's specific needs and can provide on-premise solutions for enterprise contact centers that need to host on-prem for security or regulatory reasons.
How Will MiaRec's Cloud-based Voice Analytics AI Models Use My Data?
MiaRec will only use your data for MiaRec services, we will delete your data after it has been used for its designated task.

The image below summarizes how MiaRec's AI-based Voice Analytics solutions use your data. Your call recordings and metadata are briefly gathered and stored in MiaRec's hosted cloud for our STT Transcription, Sentiment Analysis, or Auto Call Summary services. Once the information has been processed, we will send the results back to your contact center and delete the original recording, metadata, and results from MiaRec cloud.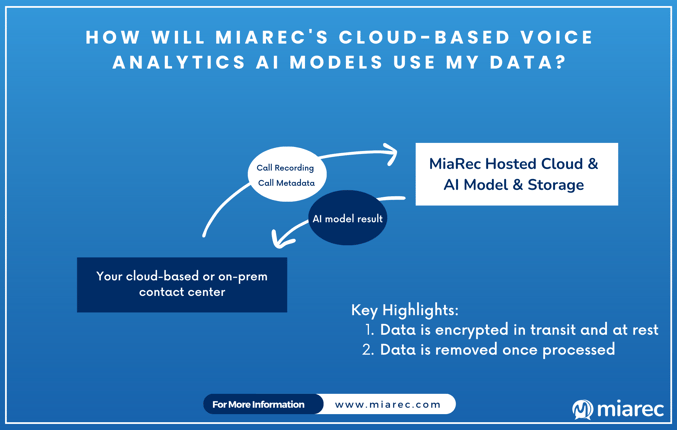 MiaRec's various cloud-based Voice Analytics AI models analyze your call recordings and metadata. After analyzing, we briefly store this information to retrieve the generated data (such as a MiaRec Auto Call Summary or Sentiment Analysis insights). During this time, your information is secure and encrypted. Afterward, we will permanently delete your data.
How Does MiaRec Use My Data In Their ChatGPT-driven Solutions? Is My Data Secure Or Will My Data Be Used To Train Their AI models?
As more articles highlight ChatGPT's data privacy guidelines, you may be wondering if using a ChatGPT-driven solution means ChatGPT will use your data as training data. We will not use your data to train our AI models, unless you give us your permission to do so.
Among our Voice Analytics and AQM solutions, we offer our ChatGPT-driven Automated Call Summary solution, which automatically analyzes call transcripts and generates call summaries for you. It is currently our only solution that uses ChatGPT.
All of our cloud-based solutions (including our ChatGPT-driven Auto Call Summary) do not use your data to train our AI models. However, we offer an "opt-in" option, which allows MiaRec to use your user data to improve the quality of our AI results. We offer discounted pricing to customers who choose to opt-in.
If you choose to opt-in, MiaRec will anonymize and use your data to train our MiaRec Speech cloud model. You can define what user, groups, or call data MiaRec is allowed to utilize. This information will only be used to improve our models' performance, and you can still send data to us that you do not want us to use as training data. You will continue to maintain full ownership of all data selected for logging. Meanwhile, MiaRec retains ownership of the AI models trained from that data. Should you stop using MiaRec when opted-in, we will not automatically delete your logged data. However, you can request to have your data deleted.
Only a limited set of authorized MiaRec employees and contractors can access your data. MiaRec does not use your data or any personally identifiable information in your collected data to target products, services, or advertising toward you, your users, or your end users.
MiaRec encrypts your data to prevent unauthorized users from accessing your data. Beyond encryption, we also offer MiaRec Auto Redaction, which removes sensitive information (e.g. credit card numbers, birth dates, etc.) from your call audios and transcripts. We also provide MiaRec Audit Logs to track user activity, password protection, role-based access, and multi-factor authentication.
Are MiaRec's Cloud-based Solutions Compliant With Industry Regulations Such As HIPAA And PCI-DSS?
MiaRec has been working in highly-regulated industries for years and we understand the compliance challenges and are here to help. MiaRec does offer HIPAA-compliant and PCI-compliant cloud-based Voice Analytics solutions. However, we do not offer these by default, please inquire with our sales team to request compliant services.
You will have to let us know if you need a HIPAA-compliant and/or PCI-DSS-compliant MiaRec solution, as the cost of our HIPAA and PCI-DSS compliant cloud-based solutions may differ from our standard pricing model.
Conclusion
Both cloud-based and on-prem contact centers can adopt MiaRec's cloud-based Voice Analytics solutions to analyze call data for PCI-DSS and HIPAA-compliant call insights. Not all of our services have to be cloud-based; we can deploy MiaRec Topic Analysis and Auto Call Scoring on-prem or via cloud, depending on your preference.
MiaRec will not use your call data to train our AI models without your permission. We will only use your call recording data and metadata for MiaRec applications, and will delete the original call recording, metadata, and results from our database once we have sent the results to your contact center.
Now that you know how MiaRec will secure and use your data, visit our free demo to try out our cloud-based Voice Analytics solutions for yourself. Discover ways your contact center can use popular Voice Analytics features such as MiaRec Topic and Sentiment Analysis. You can also contact our sales team for a personalized demo on how we can customize your MiaRec deployment according to your contact center's needs.