MiaRec vs Observe.AI: What Is The Difference?
6 min read
May 11, 2023 at 12:04 PM
There are several factors you need to consider when researching Voice Analytics solutions for your contact center. You might have questions such as, "What makes one solution different from another? How can I ensure I get the best ROI for my purchase?" While Voice Analytics solutions can look similar at first glance, they are not one-size-fits-all.
At MiaRec, we have worked alongside hundreds of contact centers to meet their individual requirements and we have seen firsthand how the right Voice Analytics solution can transform your contact center. Because it is crucial to research before deciding on a particular solution, we have created unbiased side-by-side comparisons with the top solutions in the market.
In this article, we will compare Observe.AI and MiaRec. You will learn about their features, best use cases, and which solution would be a good fit for your contact center. By the end of this article, you will have a solid understanding of what makes each solution stand out so you can make an informed decision.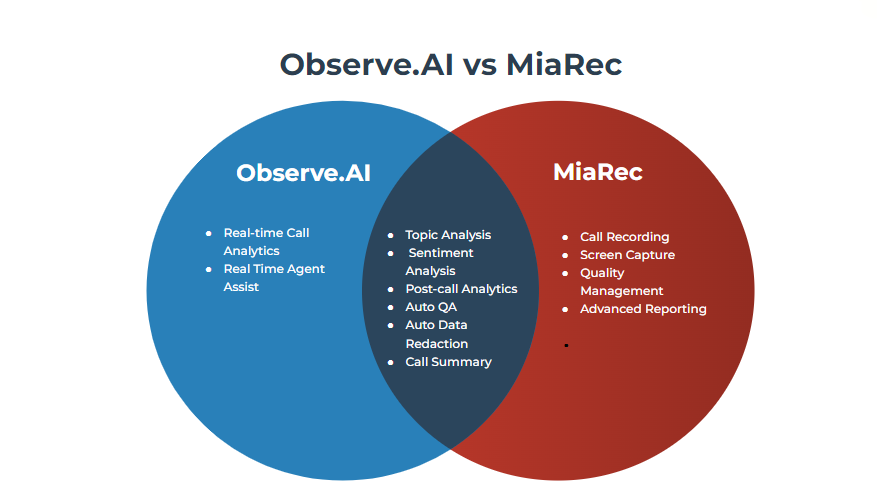 What Is Observe.AI?
Observe.AI is a Conversational Intelligence platform that uses AI to transform your contact center into a data-driven operation. Its solution offers Voice Analytic features such as Real-Time AI and Post-Interaction AI so that you can support your agents during and after their calls. It analyzes interactions to uncover powerful insights that can drive business outcomes and maximize team performance.
Observe.AI integrates with popular CCaaS platforms (Twilio, Five9, Genesys, etc.), Cloud providers (AWS, Microsoft), and more.
What Does Observe.AI Offer?
Observe.AI's Real-Time and Post-Interaction AI serves to improve customer interactions and transform business workflows. Its Real-Time AI offers automated data redaction, Smart Scripts, and live agent assist to help agents better meet customer needs. Meanwhile, Post-Interaction AI aims to streamline after call work and gather quality insights from your call data with personalized agent coaching as well as manual and automated Quality Assurance (QA) tools. By combining Observe.AI's real-time and post-call services, you can effectively monitor your team's performance.
Observe.AI offers selective redaction, automatically removing pre-defined sensitive data from calls and transcripts, to ensure that your calls are secured. Agents can better focus on calls knowing their calls are always compliant with privacy regulations and company policies. Meanwhile, Observe.AI Smart Scripts provides links, upsell reminders, and additional resources to help agents answer customer inquiries. The dashboard includes a visual checklist to help agents adhere to call scripts and stay on track. It notifies supervisors if there is negative customer sentiment, so that they can provide real-time guidance as needed.
Agents need to keep notes throughout the call; these notes are then used to draft call summaries for supervisors and other agents. Post-call summaries are essential because they help contact centers understand why the customer was calling, how the call was resolved, and whether any follow-up action is needed. Observe.AI uses Generative AI to create call summaries as the call happens, so that agents focus on providing quality customer service.
Your agents handle thousands of calls a day, it would be difficult to manually review every single call. Rather than only being able to review a fraction of the calls, Observe.AI offers automated call scoring so that you can grade every call and get the whole picture behind your contact center interactions. You can also receive automated suggestions on how your agents can improve. Observe.AI uses topics and sentiment analysis to identify and categorize how customers were feeling during the call. By utilizing automated call scoring with topics and sentiment analysis, you will have an in-depth understanding of consumer and agent behavior.
It is important to note that Observe.AI does not offer call recording services such as screen recording or live monitoring. If you do not already have a call recording platform, you would have to find a separate call recording solution. Alternatively, if you already use an on-prem call recording platform, it may be difficult to integrate a third-party Voice Analytics solution.
What Is MiaRec?
MiaRec is a Conversational Intelligence platform designed to help contact centers make the most of their call data. We offer secure Call Recording, Automated QA, Voice Analytics, and Workforce Optimization (WFO) solutions that leverage AI to transform how your contact center understands your Voice of Customer. Gain valuable customer insights to improve customer experiences, drive digital transformation, and more.
MiaRec integrates with most communication solutions including Microsoft Teams, Five9, Cisco WebEx, and more.
What Does MiaRec Offer?
In addition to MiaRec's Auto QA and advanced AI-based Voice Analytics solutions, MiaRec also provides WFO solutions for contact centers. These solutions include secure Call Recording, Screen Recording, Quality Management, and Advanced Reporting. Our recordings are diarized, meaning that callers are recorded separately, to ensure your transcripts accurately reflect who says what. We use Speech-To-Text (STT) Transcription to transcribe calls into text, making it easier for you to read and search call contents.
MiaRec Call and Screen Recording seamlessly works alongside our AQM and Voice Analytics features. You can use Keyword Extraction, Topic Analysis, and Sentiment Analysis to analyze call trends, detect consumer patterns, and more. MiaRec identifies predefined keywords or phrases in your agent's calls; these keywords are then categorized by topics. You can run reports to see why customers are calling, how often they are calling about specific topics, and more. Both Observe.AI and MiaRec uses NLP-based sentiment to identify keywords for positive or negative customer sentiment, context, and sarcasm.
Because MiaRec offers traditional QM and AQM services, you can combine them for the best results. Manual call scoring can be time-consuming and labor-intensive, but often produces the most accurate results. Meanwhile, automated call scoring is much faster and requires little to no training, but could produce less accurate scores.
With MiaRec, you can use both processes and benefit from the accuracy of manual call scoring and the efficiency of automated call scoring. MiaRec Agent Evaluation measures individual agents and their performance, while MiaRec Auto Score Card uses AI to auto-score every one of your call recordings. Use both to get a deeper understanding of your agents' performance. These insights can help you identify training gaps and improve customer experience.
On average, agents spend over a third of their workday doing administrative work. Repetitive tasks, such as drafting call summaries, can be automated. Similar to Observe.AI, MiaRec offers Auto Call Summary to shorten your agent's post-call work. We use ChatGPT to summarize key call highlights. Agents and supervisors can glance at call summaries to understand why the customer was calling, how the call was resolved, and more.
When customers need to share their personal information over call, it is important that these calls are secured. Most solutions need agents to manually pause calls to avoid recording potentially sensitive information such as credit card numbers, SSINs, and more. This leaves contact centers vulnerable to human error. You can use MiaRec Auto Redaction to streamline your redaction process, automatically removing sensitive information from transcripts and its audios.
Conclusion: Which One Is Best For Me?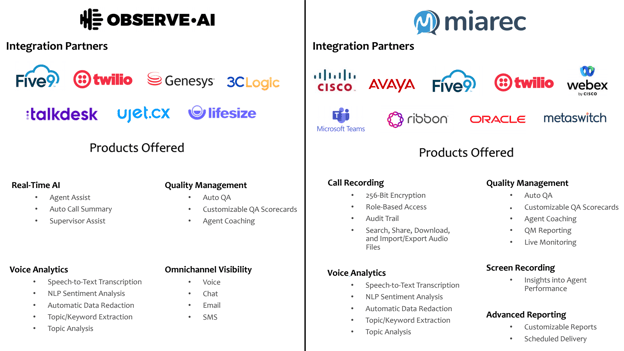 MiaRec and Observe.AI are similar at first glance. They both offer post call voice analytics such as topical analysis, NLP-based Sentiment Analysis, automated call scoring, and automated data redaction. However, they differ in two key areas: WFO and Agent Assist.
Observe.AI has a more comprehensive agent assist solution than MiaRec. They offer real-time and post-call analytics, while MiaRec only offers post-call analytics. Unlike Observe.AI, MiaRec offers Call Recording services, extensive WFO solutions, and the latest in Voice Analytics technology.
Therefore, we recommend Observe.AI if you are looking to better support your agents during their calls with real-time agent assistance. Be sure to check if your call recording solution integrates with Observe.AI for the best results.
If you are looking for an all-in-one Conversation Intelligence solution, we would recommend MiaRec. You can have all of your needs on one platform for easy integration and workload management. With MiaRec, you can combine traditional WFO tools with the newest Voice Analytics services to transform contact center operations, customer experiences, agent workloads, and more.
Most Voice Analytics solutions will cost around $50 to $125/User/Month, depending on the features provided, brand awareness, and more, but you will have to reach out to Observe.AI for their specific pricing. Meanwhile, MiaRec's enterprise packaging will cost you $78/User/Month or $65/User/Month if paid annually. MiaRec's enterprise packaging includes Call Recording, Sentiment Analysis, and more. Alternatively, we offer cheaper packages if you only need call recording or basic quality management features.
Now that you know how MiaRec and Observe.AI could meet your contact center needs, try them out for yourself. Demos and free trials are an effective way to see if either solution would meet your contact center's day-to-day needs. MiaRec offers both a free online demo and trial or contact our sales team for a personalized demo. While Observe.AI doesn't offer a free trial, you can register here for a demo.