Support Financial Services Contact Center Compliance & Customer Strategies With Voice Analytics

7 min read
July 14, 2023 at 12:21 PM
Contact centers in the Financial Services Industry (FSI) are responsible for their institution's reputation. How can adopting a Voice Analytics solution help them meet customer expectations and compliance requirements?
As a Conversation Intelligence platform, MiaRec offers Voice Analytic solutions that cater to the Financial Services Industry's specific needs. When 51% of surveyed FSI companies believe contact centers were most at risk of fraud attempts, your contact center solutions must be able to keep up with your industry's evolving regulations and threats.
This article will discuss how FSI contact centers can utilize Voice Analytics solutions to drive customer experience (CX) and compliance strategies. We will explore common Voice Analytics features that you can use to gain call insights that will support security measures, agent performances, customer interactions, and marketing initiatives.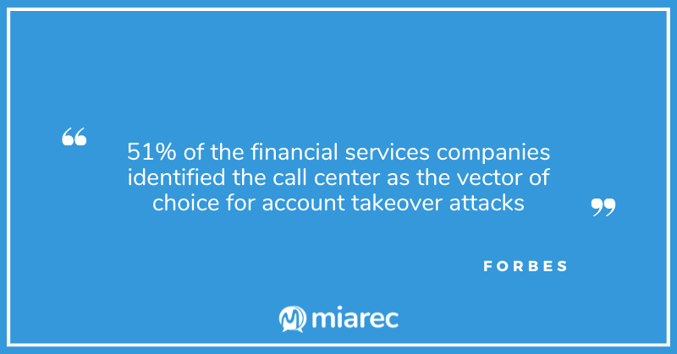 What Specific Challenges Do Contact Centers In The Financial Services Industry Face?
As a contact center in the financial services industry, you must juggle rising call volumes, increasing customer expectations, and industry-specific regulations and laws, such as the PCI-DSS and Dodd-Frank Act.
How Does The PCI-DSS Impact Contact Centers In The Financial Services Industry?
The Payment Card Industry Data Security Standards, or PCI-DSS, apply to any entity that stores, processes or transmits cardholder data, including FSI contact centers. Most major card brands, Visa, Mastercard, AmEx, JCB, and Discover, mandate the PCI-DSS to encourage payment security hygiene. However, no universal way exists to "prove" you have met the PCI-DSS.
Instead, you must verify that you are continuously trying to provide a secure payment processing environment. One way to support your PCI-DSS compliance strategy is by adopting a Voice Analytics solution offering data redaction services to secure your call data.
How Does The Dodd-Frank Act Impact Contact Centers In The Financial Services Industry?
The Dodd-Frank Wall Street Reform and Consumer Protection Act, or Dodd-Frank Act, is a set of regulations and restrictions created to protect financial institutions from repeating the 2008 financial crisis. Because it requires financial services companies to keep records of transactions, you need to record all conversations that involve transactions and ensure these records are easily accessible. Many Voice Analytics solutions help contact centers comply with Dodd-Frank Act by offering call recording services.
What Are The Consequences Of Noncompliance?
Contact centers in the FSI must follow the PCI-DSS and Dodd-Frank Act to avoid fines, damaged reputations, and jail time.
PCI-DSS fines can range from $5,000/month to $100,000/month. Per-month charges increase for extended periods, so a company could pay $5,000/month if they have been noncompliant for three months, but the fine could rise to $50,000/month if they continue to be noncompliant.
Meanwhile, failure to comply with the Dodd-Frank Act could result in civil penalties. The Dodd-Frank Act gives the Securities and Exchange Commission (SEC) the authority to impose civil penalties. These penalties could cost up to $725,000 per entity for each intentional omission.
Beyond the PCI-DSS and Dodd-Frank Act, bereaved customers could sue you for compromising their data. Companies such as Home Depot and Uber have had to pay hundreds of millions in class action lawsuit settlements for data privacy violations, and even after these lawsuits, you will have to spend a significant amount of time and money to rebuild customer trust.
How Can A Voice Analytics Solution Support Customer and Compliance Strategies?
Voice Analytics solution can support your compliance strategy and help you comply with regulations such as the PCI-DSS and Dodd-Frank Act by offering services such as call recording, automated data redaction, and more. Many Voice Analytics solutions also provide features such as Topics Analysis and Sentiment Analysis, which can help your contact center gather customer insights to drive customer experiences and business operations.
Follow Compliance Regulations With Call Recording
The Dodd-Frank Act requires that contact centers record all interactions involving transactions. However, since it is difficult to tell if a phone call will include a transaction, it is easier to record every interaction.
Supporting Your PCI-DSS Compliance Strategy With Auto Redaction
The PCI-DSS requires you to censor sensitive data like credit card numbers or SSINs. While you can redact call information by requiring agents to pause calls before customers share sensitive information, this method leaves your contact center vulnerable to human error as agents could forget to pause in time.
To combat this, your Voice Analytics solution may offer Automated Data Redaction. An Automated Data Redaction solution automatically redacts sensitive data from transcripts and associated audio files. This feature allows agents to better focus on customer interactions while ensuring your call transcripts and audios are compliant with PCI-DSS.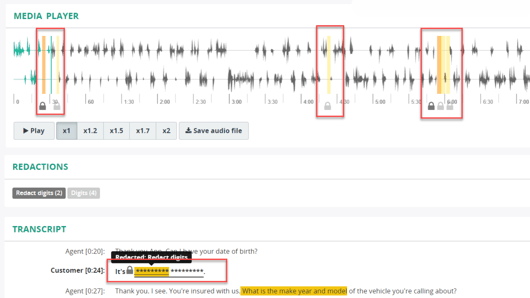 Screenshot of MiaRec Auto Redaction. The lock icons indicate parts of the call transcript and audio where customers or agents may have shared private information.
Organizing Calls With Topic Analysis For Compliance And Customers
Topics Analysis organizes calls by your preferred keywords and key phrases, helping you track specific calls. For example, you can order calls that include payment language to monitor calls with transactions. Contact center supervisors can group calls by Topics to monitor agents and ensure they follow compliance guidelines when discussing transactions.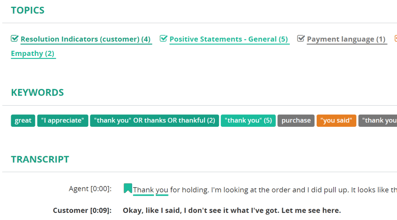 Image of MiaRec Topics. This screenshot highlights the targeted keywords, and their corresponding Topic categories. The transcript also highlights when keywords were spoken. Because most contact centers want to track numerous topics in one call ("Payment Language", "Opening Statements", "Empathy"), the same call is often grouped into multiple categories.
Understanding Customer Behavior With Sentiment Analysis
Most Voice Analytics solutions offer Sentiment Analysis capabilities alongside Topics Analysis, which can help contact centers understand customer behavior.
For example, let us pretend you are a bank's contact center and have organized your calls by "payment disputes". After reviewing the call's sentiment scores and transcripts, you discover that customers are frustrated because they struggle to understand the bank's payment policies. Because of this feedback, your bank can edit its website to make payment policies more easily viewable, increasing customer satisfaction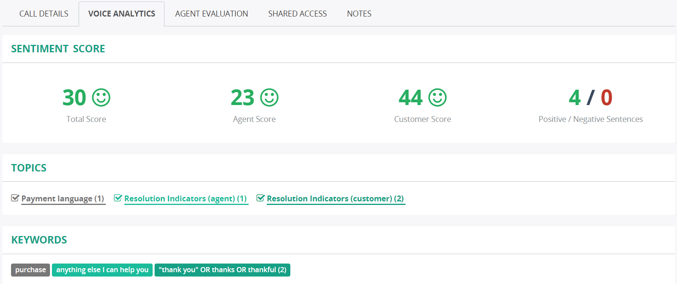 Image of MiaRec Sentiment Scores and Topic Categories.
You can also organize calls to review agent performances or customer behavior and read the transcripts to see what customers say about your products and services, if the call script addressed customer issues effectively, and more.

Image of MiaRec transcripts. Lines highlighted in red indicate sentences with negative sentiments. Review call transcripts can help contact center supervisors understand what led to a negative or positive customer score.
Additional Features That Support Financial Services Industry Contact Centers
Some Voice Analytics solutions may offer additional Automated Quality Management capabilities to help FSI contact centers manage call volumes and improve agent performances, leading to better customer experiences.
Ensure Agents Are Following Compliance Policies With Automated Call Scoring
You must evaluate customer interactions to ensure agents act according to security policies. However, manually listening to every agent's call to see if they are following protocol is not a viable solution when your contact center handles thousands of calls daily.
That is why some Voice Analytics solutions offer additional services to automate the agent evaluation process. They may provide Automated Call Scoring, which helps you grade every call according to a customizable score card.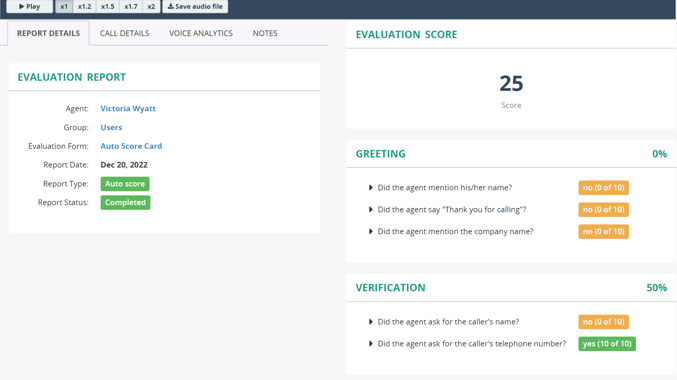 Screenshot of MiaRec Agent Evaluation, call scoring metrics displayed on the right.
Auto Call Scoring solutions can help you comply with privacy regulations and review agent professionalism and knowledge. You can customize these scorecards to include questions such as, "Did the agent notify the caller that the call would be recorded?", "Did the agent answer the customer's questions, or "Did the agent remember to provide a closing statement?".
Manage Increasing Call Volumes with Interactive Voice Responses and Agent Assist
Interactive Voice Responses (IVRs) and real-time Agent Assist can help you manage increasing call volumes. IVRs are automated telephone systems that greet customers and interact with them to understand their needs. For example, many IVRs will say, "Please let us know your reason for calling, and we will send you to the appropriate agent." IVRs help contact centers manage call volumes by efficiently guiding customers to the appropriate resources; they may redirect calls to agents or provide customers with helpful company policies. IVRs can also notify agent's the customer's inquiries and reasons for calling, allowing agents to address customer concerns immediately upon connecting and shortening Average Handle Time (AHT).
Meanwhile, real-time Agent Assist can help agents during conversations. Real-time Agent Assist solutions can provide agents with call script reminders, suggestions, additional resources, upsell reminders, and more. For instance, if a customer asks the agent if a specific service is available, Agent Assist can check the database and confirm for the agent.
Is Adopting A Voice Analytics Solution Safe?
Because Voice Analytics solutions are responsible for implementing and securing their services, most have standard security precautions. This can include password-protected controls or role-based access. These features prevent unauthorized users from logging in. Some solutions, like MiaRec, may also offer audit logs to track when your employees access their Voice Analytics platform. They may also provide 256-bit or audio-file encryptions so that you can back up data securely.
Conclusion: Deciding On A Voice Analytics Solution
Voice Analytics solutions can help FSI contact centers improve customer experiences and compliance strategies. However, deciding on the best Voice Analytics for your contact center requires research.
Not all Voice Analytics solutions offer the same features. Some may have additional Automated Quality Management capabilities, while others do not include automatic data redaction services.
Decide which Voice Analytics features would suit your contact center's needs with our Definitive Buyer's Guide To Conversational Analytics Platforms. Alternatively, try out a Voice Analytics solution for yourself with our free online demo, or register to speak with our sales team to see how your contact center can best use Voice Analytics.