How Healthcare Contact Centers Can Adopt Voice Analytics Solutions (Without Violating Compliance)

9 min read
July 3, 2023 at 3:23 PM
While adopting a Voice Analytics solution can improve agent performances and business operations, contact centers in highly regulated industries such as healthcare must ensure that any solution they adopt adheres to strict compliance regulations, lest they want to pay severe fines.
As a Conversation Intelligence platform, MiaRec offers HIPAA- and PCI-DSS-compliant solutions for contact centers in highly regulated industries. We have provided Voice Analytics and AI-based Automated Quality Management tools for hundreds of healthcare organizations so that they can gather meaningful customer insights from their call data.
This article will teach you how healthcare contact centers can safely adopt and benefit from Voice Analytics solutions. By the end of this article, you will know how to use Voice Analytics solutions to strengthen your compliance and security strategy.
What Challenges Do Contact Centers In Highly Regulated Industries Face?
This article focuses on US-specific regulations, but most highly regulated industries worldwide must follow strict state and federal security and compliance standards. In Regulatory Overload by the American Hospital Association (AHA), the AHA assessed the administrative impact of some existing federal regulations (CMS, OIG, OCR, and ONC) on health systems, hospitals, and post-acute care providers.
The report looked at the following nine domains: quality reporting, new models of care, meaningful use of electronic health records, hospital conditions of participation, program integrity, fraud and abuse, privacy and security, post-acute care, and billing and coverage verification requirements. Health systems, hospitals, and PAC providers had to comply with 629 discrete regulatory requirements across just these nine domains.
These regulations are necessary to keep patients safe, but creating and maintaining safeguards to meet healthcare regulations is expensive. The AHA found that American Health systems, hospitals, and PAC providers spend nearly $39 billion a year solely on administrative activities related to regulatory compliance.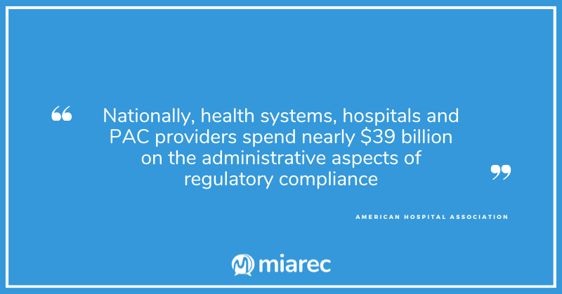 What Regulations Do Healthcare Contact Centers Need To Comply With?
Healthcare regulatory compliance covers various federal and state regulations, from patient privacy rights and information access to cybersecurity and risk mitigation. The most common and well-known federal laws that healthcare contact centers must follow are the Health Insurance Portability and Accountability Act (HIPAA) and the Payment Card Industry Data Security Standard (PCI-DSS).
HIPAA requires healthcare providers and their business associates (including contact centers) to keep Protected Health Information (PHI) private and secure. PHI is any identifiable health information transmitted or saved in any form or medium.
PCI-DSS is a set of security standards for all organizations that accept, process, or transmit credit card information. Since most major credit card and payment processing systems adhere to PCI-DSS, you must comply unless you want to pay severe fines. This applies to hospital billings, insurance payments, and more.
What Happens If You Do Not Comply?
Although healthcare organizations are spending millions to be compliant, it would cost them more to be non-compliant.
HIPAA noncompliance can cost you thousands (see chart below), while PCI-DSS fines can go up to 100,000/month.
Image: Table on HIPAA fines shared by The HIPAA Journal.
Your healthcare contact center and employees could be subject to probation or jail time. Willfully violating HIPAA is a crime and could result in up to 10 years in prison. For example, an individual was sentenced to 27 months in jail after purposefully obtaining a victim's individually identifiable health information and sharing it with a third party.
The chart does not include how much you will spend on additional civil court fees from victims or additional marketing campaigns to rebuild audience trust. It does not measure how long it will take to get wary patients to trust your organization again.
The Risks Of Adopting Cloud-based Solutions In A Highly Regulated Industry
Healthcare contact centers need to be cautious when adopting new solutions. Cloud-based technologies can make accessing and sharing patient data easier, but they can also be a potential compliance and security threat. Cloud-based solutions are more scalable and easier to integrate than an on-premise solution, however you have to rely on the cloud solution provider's security team. Unlike on-premise solutions, where your IT teams are solely responsible for infrastructure maintenance and security, you have to trust your cloud solution provider that they have the appropriate security measures in place to avoid data breaches.
Regulatory Overload by the American Hospital Association found that healthcare providers are adopting IT systems but often face exorbitant costs and ongoing interoperability. Healthcare contact centers need to regulate their remote agents' performance and usage of technology to be compliant. However, the continued rise of hybrid and remote contact centers makes it increasingly difficult to train agents.
How To Decide On A Voice Analytics Solutions To Support Your Compliance Strategy
In Code42's 2022 Annual Data Export Report, 96% of surveyed contact centers struggle to protect corporate data from insider risks effectively. Adopting Voice Analytics and Automated Quality Management solutions can make it easier for contact centers to prevent agents and external threats from accessing sensitive information.
Contact centers must be secure for remote agents, compatible with existing systems, and able to adapt to changing compliance requirements. Adopting the right contact center solution that meets all these conditions can make it easier to follow healthcare compliance guidelines and regulations.
Common Safety Measures To Expect In Voice Analytic Solutions
There is no formal checklist that determines PCI-DSS or HIPAA compliance. Instead, a government auditor will determine whether contact center solutions are reasonably trying to protect your patient's information. Most Voice Analytics solutions offer compliance measures such as role-based access control, 2FA, password protection, data encryption, and audit logs.
In addition to these features, you can use a Voice Analytics and Automated Quality Management solution to support your compliance strategy.
How Auto Redaction, Call Scoring, Topics Analysis, And Sentiment Analysis Aid Compliance Strategy
Contact centers adopt Voice Analytic and Automated Quality Management solutions to gather actionable insights from their call data. These solutions can also help healthcare contact centers manage operations while providing quality agent-patient interactions.
How Auto Data Redaction Improves Data Security
Manual data redaction is when call center agents pause and resume calls to prevent a patient's sensitive information (ex. credit card numbers) from being recorded. This process is a significant PCI-DSS compliance risk because of the potential for human error. Agents may simply forget to pause the recording, or they could pause it too late.
Automated data redaction is a great alternative to manual redaction because it automatically redacts sensitive information from the call transcript and audio. It allows agents to assist patients better when handling insurance claims, billing disputes, and more. It also means that if cyber criminals steal call transcript data, they will not have access to any card details or sensitive information.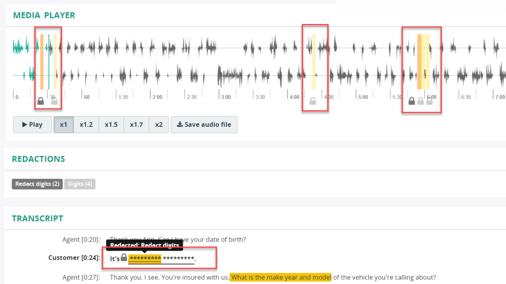 Image: Screenshot of MiaRec Auto Redaction. The lock icon signifies that a portion of the audio was redacted for compliance reasons. The corresponding transcript is also redacted.
Use Automated Call Scoring To Ensure Agent Compliance
One of the most important tasks for a content center supervisor is evaluating agent performances. It would be incredibly time-consuming to listen to every agent manually call to see if the agent followed compliance regulations and provided quality service. By only grading a fraction of the calls, your contact center will not know if agents are following compliance policies, leaving you vulnerable to HIPAA and PCI-DSS violations.
Automated Quality Management solutions offer Automated Call Scoring to score every call automatically, saving your supervisors time for more high-value tasks while ensuring your contact center calls are up to standard. It analyzes transcripts via scorecards to measure call script adherence. You can customize these scorecards to track whether the agent follows healthcare compliance regulations. For example, you could ask the scorecard if the agent stated the call was to be recorded.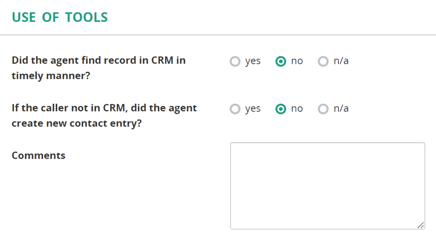 Image: Screenshot of MiaRec Agent Evaluation Scorecard. You can customize this scorecard to include your criteria.
Use Topics Analysis To Monitor Call Compliance
Another way contact center solutions can make it easier to follow compliance regulations is through Topics Analysis. Topic Analysis can organize your call transcripts by your preferred keywords or key phrases. This makes it easier to search calls by agent performances, preferred call metrics, and more. For example, California law requires contact centers to notify callers that their call will be recorded. Tracking calls that mention "recorded" is one way of confirming your agent's compliance.
You can also organize call topics by reasons for calling, such as appointment cancellations and hospital billings. Agents are typically required to file calls by the reason for calling (appointments, billing, complaints, etc.), however, they are also often given the option to categorize a call as "Other". Agents may have difficulty deciding on how to categorize the call, and incorrectly label a customer's reason for calling as "Other". You can use Topics Analysis to prevent misclassifying calls, and get the whole picture on why customers are calling your healthcare contact center.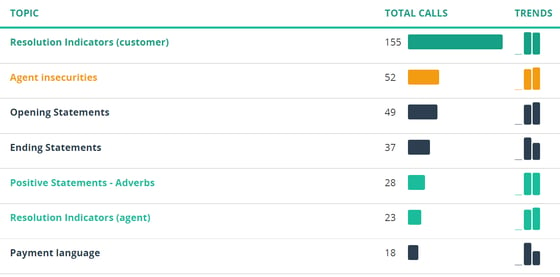 Image: Screenshot of MiaRec Topics. You can include a "compliance message" Topic to categorize calls where agents had notified customers that the call would be recorded.
How Sentiment Analysis Supports Healthcare Contact Center With Patient Insights
A Voice Analytics solution analyzes call data for insights. These insights can be used to measure compliance, train new hires, and improve patient experiences.
Your Voice Analytics solution will typically offer some variety of Sentiment Analysis to analyze calls for caller sentiment.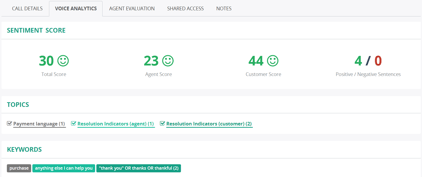 Image: Screenshot of MiaRec Sentiment Analysis. This screenshot includes which Topics categories and keywords were mentioned in the call.
Sentiment Analysis insights can help healthcare contact centers understand patients' feelings and why. While Sentiment Analysis does not directly support compliance strategies, it can help supervisors ensure agents are acting professionally. You can use these insights to train agents to lead positive calls.



Image: Screenshot of MiaRec Sentiment Analysis. Depending on the Voice Analytics solution, you can see exactly which sentences lead to a more negative or positive score.
Combining Sentiment and Topic Analysis allows you to measure Sentiment Analysis trends over time. Track calls to understand why patients are unhappy. Are they frustrated with an agent's lack of knowledge, or are they unhappy with the hospital's insurance policy? Organizing and documenting interactions can help you track calls for compliance and identify any verbal security breaches, simplifying incident investigations and reducing liability.
Best Practices: How To Choose Your Voice Analytic Solutions
Choosing the proper solutions will depend on your contact center's needs. All Voice Analytic solutions will analyze calls for meaningful insights. Some Voice Analytic solutions will include additional Automated Quality Management solutions, making it easier to train agents, measure agent performance, and ensure compliance. Others may include agent gamification or chatbots, which do not add to your compliance strategy but can improve patient experience and agent morale.
For healthcare contact centers who want to analyze their call data for patient insights and compliance, we recommend Voice Analytic solutions with Automated Quality Management features such as Automated Call Scoring, Topics Analysis, Sentiment Analysis, and Auto Redaction.
You should also research whether your Voice Analytics solution integrates with existing systems. This can help reduce integration time, making it easier for your agents to get started with your new Voice Analytics solution.
However, even if your Voice Analytics solution is compliant, this does not mean your entire contact center is compliant. Your contact center still needs to have safeguards in place to prevent risks. Potential contact center-wide safeguard measures could include employee training, regular self-audits, and more.
Conclusion
Healthcare contact centers have federal and state regulations they have to follow to ensure patient safety and enforce patient rights. They must constantly provide mass volumes of data to meet rapidly shifting requirements or face fines, damaged reputations, and even jail time.
Voice Analytics solutions can help healthcare contact centers make the most of their call data while complying with security and compliance regulations.
Try our free online demo to see how a Voice Analytics solution could support your contact center operations.