How Much Could Noncompliance Cost Your Contact Center?

6 min read
May 23, 2023 at 4:26 PM
Considering that 83% of companies have already experienced more than one data breach, it is more than likely that your contact center is next. In fact, cybercriminals often target contact centers first.
As a contact center solution, MiaRec handles private information on a day-to-day basis. For us, being non-compliant could result in serious consequences and jeopardize people's safety.
In this article, we will discuss the hidden costs of noncompliance. By the end of this article, you will know how noncompliance could mean permanently losing customer loyalty, declaring bankruptcy, and even facing jail time.
How Much Could Noncompliance Cost You?
Fines, Fees, and Ransoms
Being non-compliant means your organization has not met certain security standards or guidelines. When you are not following security standards or guidelines, that often means your infrastructure is vulnerable to cyber criminals and hackers.
Ransom prices are soaring, with some criminals charging up to nearly 1 million USD. Additionally, you have to consider government fees and fines. A PCI-DSS non-compliance fee could cost $100,000 a month, while a GDPR fine could cost up to 10 million euros. According to IBM, the average data breach cost organizations $4.35 million USD.
However, there is more to noncompliance than fees and ransoms. It takes on average 277 days, or roughly nine months, for most companies to identify and contain a breach, but it could take even longer to rebuild your reputation.
Notifying Customers and Facing Lawsuits
You have to notify anyone impacted by the data breach. The cost of notifying customers about data breaches averages $740,000 in the US. If you do not tell consumers or independent agencies that their data was compromised, you could face a lawsuit.
90 Degree Benefits, a health insurance company, is facing a class-action lawsuit because of a data breach that impacted more than 180,000 individuals. Similar class-action lawsuits are usually resolved through payouts. For example, DNA Diagnostics Center had to pay a $400,000 settlement after its data breach in 2021.
Rebuilding Customer Trust
While not every customer will sue you, many will no longer trust you. A study by YouGov interviewed 2000 adults in Great Britain to see how long it would take consumers to trust organizations again after a data breach.
YouGov found that 1 in 10 adults do not believe an organization could regain their trust after a data breach. However, 2 in 10 consumers were willing to eventually forgive, as long as companies compensated for any financial losses because of the breach. Meanwhile, 4 in 10 customers want organizations to clearly explain what caused the data breach and what actions were being taken to prevent future data breaches.
It is important to note that surveyors did not give a specific time frame. That means that even after you have addressed the data breach, you could continue to lose revenue because of continued customer distrust.
To this day, companies such as Uber are used as case studies for what not to do after a data breach. In 2016, Uber paid $100,000 in ransom to hackers, and then famously had to pay $148 million for attempting to cover up any signs of a data breach. The breach affected more than 57 million Uber riders and drivers.
Understanding Personal Liability
Contact centers are required by the HIPAA, PCI-DSS, and other regulations to secure customer data. Failure to comply will not only result in fines, workers could also face personal consequences.
After it was revealed that Uber had not reported the breach for nearly a year, Uber's chief security officer was fired. He was later found guilty for not disclosing the breach to government regulators. The jury found him guilty on one count of obstructing the F.T.C's investigation, and one count of concealing a felony from authorities. He was sentenced to 3 years of probation.
Novelion Therapeutics subsidiary Aegerion illegally obtained individually identifiable health information of patients for financial gain. They paid more than $35 million in fines. Meanwhile, a pediatric cardiologist had allowed Aegerion's sales representatives to access confidential patient health information. The cardiologist was charged with 6 months in probation for violating HIPAA. Similar cases have had worse consequences, with fines up to $50,000, and even some facing jail time.
Measuring Time
Throughout this article, we have mentioned how much time you will lose to noncompliance. From the time it takes to detect the data breach, to the time you will spend regaining customer trust, you are constantly losing valuable time to noncompliance.
It would take you less time to invest in secure compliance tools now than to invest in lawyers for your upcoming lawsuit later. Remember that, regardless of how much time you spend to rebuild customer trust, there are customers that will not come back.
The more effective your security posture is, the lower your noncompliance costs. Investing in security tools and strategies could save you millions. Gartner has predicted that 75% of organizations will restructure their risk and security governance, and adopt advanced technologies for a more resilient cybersecurity strategy. On average, data breaches with no automated security deployment faced an average of $6.2 million in noncompliance costs. However, companies that did invest in AI and automated security paid $3.15 million. That is over $3 million USD you could save with an effective security strategy!
How Much Am I Saving By Being Compliant?
It is cheaper to be compliant than it is to be noncompliant. In fact, you could end up paying 2.71 times more if you do not comply with compliance mandates. The True Cost of Compliance With Data Protection Regulations Report by Globalscape also found the average cost of compliance was $5.47 million, while the average cost of noncompliance was $14.82 million. Investing in compliance could mean avoiding noncompliance issues such as business disruptions, declines in productivity, fees, and other legal and non-legal settlement costs.
It is worth investing in incident response plans, data protection, compliance audits, staff training, specialized technologies, and more. We have included a graph below that compares compliance and non-compliance costs in 53 organizations. While compliance costs ranged from $0.58 million to $21.56 million, non-compliance costs ranged between $2.20 million to $39.22 million. In all but two cases, non-compliance costs exceeded compliance costs.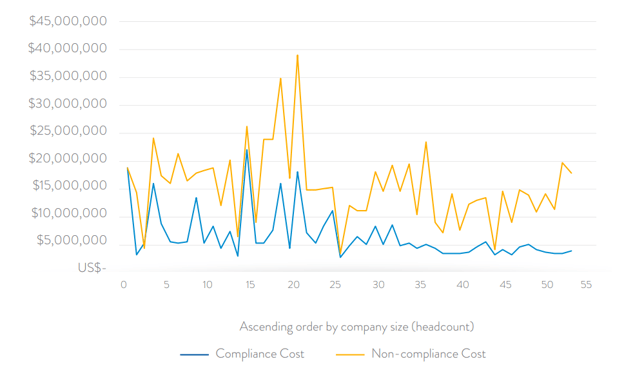 Image from The True Cost of Compliance With Data Protection Regulations Report sponsored by Globalscape and conducted by Ponemon Institute LLC in 2017
Will I Be Compliant If I Adopt A Contact Center Solution?
Any third-party solution you adopt is required to meet most compliance standards and regulations. However, you still need to research your contact center solutions' security measures. As a contact center solution, MiaRec offers the following features to protect your call data:
Features such as role-based access and password-protected logins help contact center managers trace login access. Call recordings are file encrypted to ensure secure data backup and prevent any data leaks or theft. We offer MiaRec Auto Score Card to ensure that agents are following call scripts and have received authorization to record. MiaRec is also GDPR compliant. This means that EU customers can access their data at no charge.
Every solution has its own ways to ensure compliance. For example, contact centers need to make sure their customers' private information is secured. Some solutions require agents to manually pause and resume call recording to prevent any sensitive information from being recorded. MiaRec offers Auto Data Redaction to automatically remove your caller's sensitive information from transcripts and calls. While both options prevent personal information from being recorded, Auto Redaction is a more reliable method that does not rely on human bias.
It is important to note that while third-party solutions are compliant with most regulations, there is no solution that guarantees compliance. Your contact center is still accountable for reviewing and updating its own security measures. It is your organization's responsibility to make sure it is meeting specific security standards, and to know who in your company has access to what data.
Conclusion
When you are non-compliant, you will pay more than just a fine. You have to be ready to lose revenue and reputation. In some cases, you could even face personal legal repercussions. But by knowing the costs of noncompliance, you understand just how important it is to have a secure compliance strategy in place.
You should be constantly auditing who has access to what data, why, when, where, and how. Make sure you know exactly how your organization's data is being handled, and to regularly audit any third-party company that has access to your data.
As the rate of data breaches continues to increase, it is not a question of if a breach will happen, but when it will happen. This means that how you mitigate risk is just as important as how you prevent it. While recovering customer trust will be slow going, there is hope. Be transparent about your mistakes. Notify impacted parties immediately, and be ready to compensate victims for more serious infractions. Following compliance regulations will keep customers happy and you safe.
Invest in tools and technologies, it could be the difference between taking nine months to recover or three months. Do not be the company that is remembered for what not to do after a data breach. See how secure your contact center is with our Call Center Efficiency Checklist.