Introducing MiaRec's Auto Score Card: Evaluate Agent Performance On 100% Of Your Calls

5 min read
April 27, 2022 at 11:56 AM
Peter Drucker, one of the most widely-known and influential management consultants and educators, coined a famous saying: "You can't manage what you can't measure."
This is very true for improving the service quality of contact center interactions. How can you possibly elevate the experiences your customers are having if you can only listen to and evaluate about two percent of the calls? It is simply impossible.
Introducing MiaRec Auto Score Card
This is why we at MiaRec are thrilled to introduce MiaRec Auto Score Card, an Artificial Intelligence (AI) driven agent evaluation tool that can automatically evaluate 100% or any number of selective calls based on predetermined criteria. This new Voice Analytics feature is based on MiaRec's AI speech recognition engine and provides organizations with a variety of business benefits:
Free up hours of supervisor time (and eliminate tedious, repetitive, and therefore boring work) that now can be spent on more high-value tasks,
Get a much more accurate picture of your agents' performance due to the much bigger sample size,
Consistently enforce service quality standards across teams (e.g., Was the greeting used?),
Increase compliance (e.g., Was the call recording announcement made — if using Cisco — and was the recording paused before taking payment card information?),
Instantly measure training outcomes (e.g., Are agents now using certain phrases taught in the training to be more courteous or effective in conflict resolution?),
Speed up the onboarding process by closely monitoring new hires,
Measure team and supervisor performance and effectiveness over time,
Receive automated alerts and notifications if a certain agent or team receives a minimum allowable score or consistently scores below a certain average,
and many more.
Let me show you how easy it is to set up!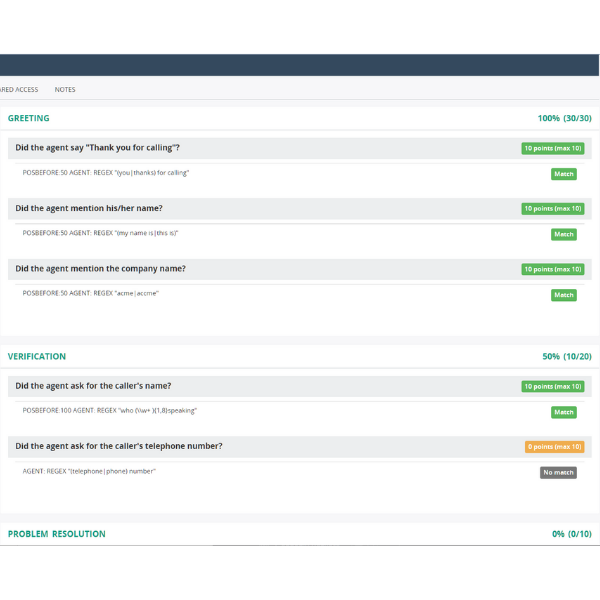 How Does MiaRec's Auto Score Card Work?
Prerequisites: MiaRec Call Recording and Voice Analytics license
Before we have a look at how easy it is to set up MiaRec Call Center Automated Score Card, let's explore the features. While the biggest benefits of the tool are that you can score all customer interactions and evaluate them over time, you can best view the functionality on a single call.
As a supervisor, you can click on a MiaRec recorded call you wish to examine more closely. Below the visual representation of the call (advanced audio player), you will find tabs reading "Call Details", "Voice Analytics", "Auto Score Card", "Agent Evaluation", "Shared Access", and "Notes".
Call Details holds the metadata of the call, such as caller and called party information, the audit trail log, PBX info, and more. In Voice Analytics, you will find the call transcript with the highlighted keywords and topics, while Agent Evaluation lets you manually evaluate an agent's performance.
Click on "Auto Score Card". Here you will find the result of the automated score based on MiaRec's Voice Analytics algorithm and the predefined questions. In the box on the left, you can see which auto-scoring form was used and click on it to edit it (given you have permission to edit it).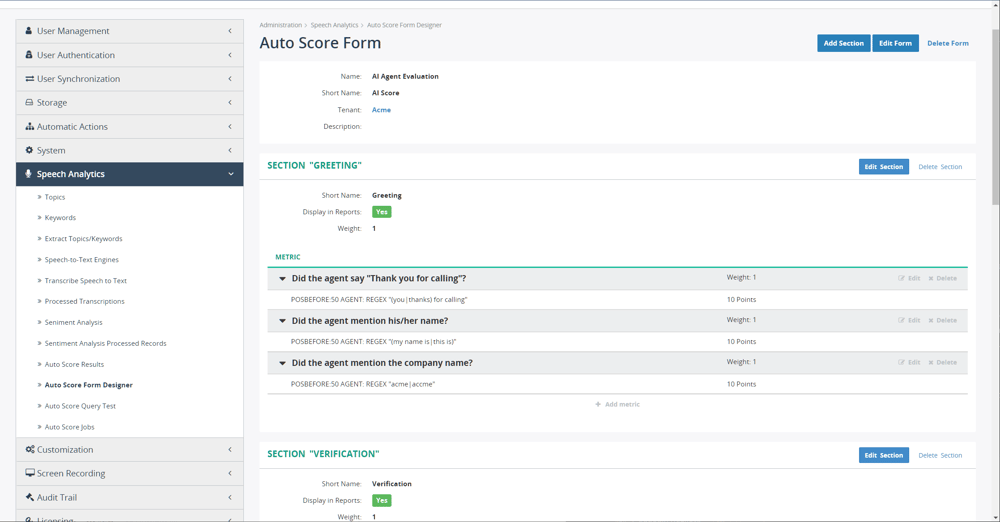 You can set up as many forms as you like, but we do recommend keeping it consistent across a team and using specifically designed forms for your different contact center functions (e.g., IT help desk, sales, and customer support). This allows you to look for much more detailed analytics.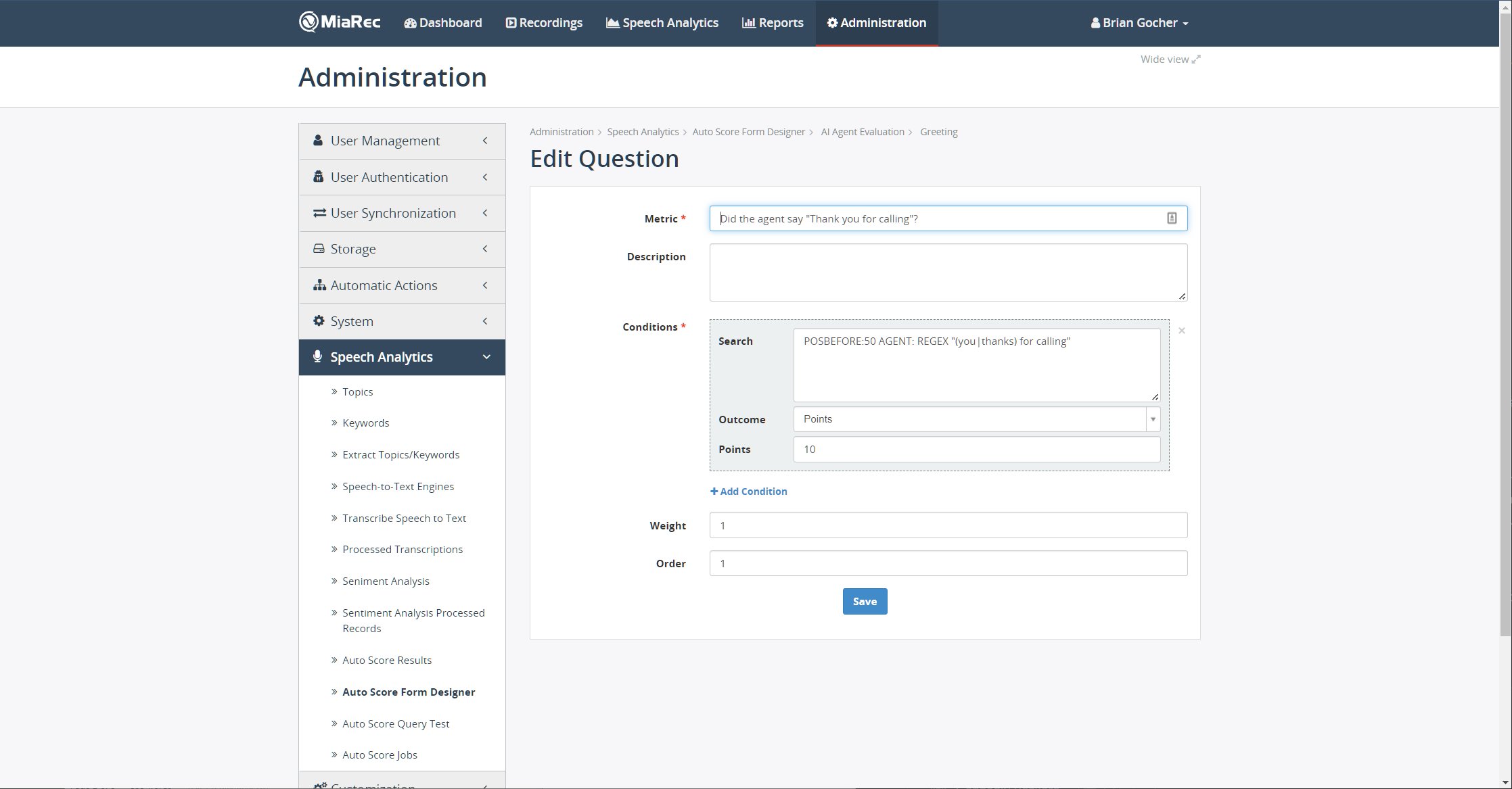 On the right-hand side of the screen, you can see the score details displayed on the form. It is broken out into logical sections, e.g., Greeting, Problem Resolution, and Closing, and their corresponding questions. For each of those questions and sections, you can immediately see the score and why it was given.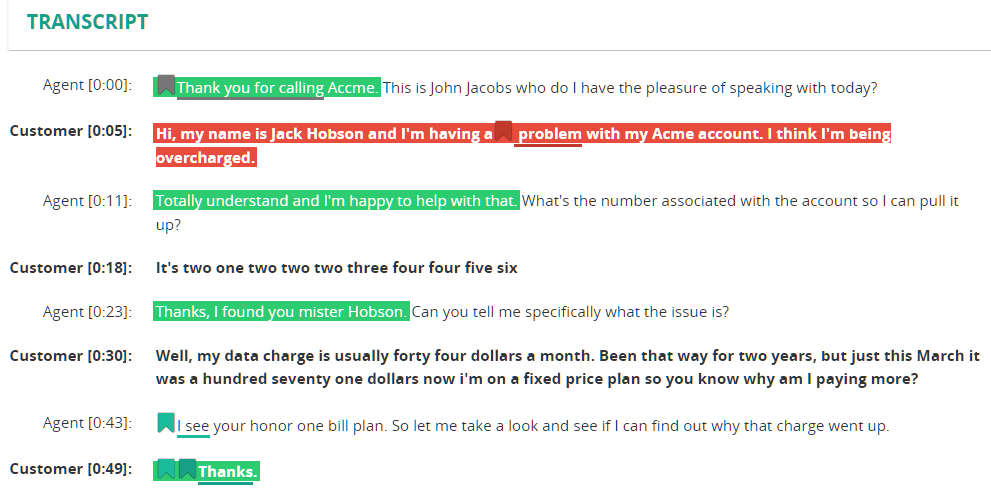 This turns into this: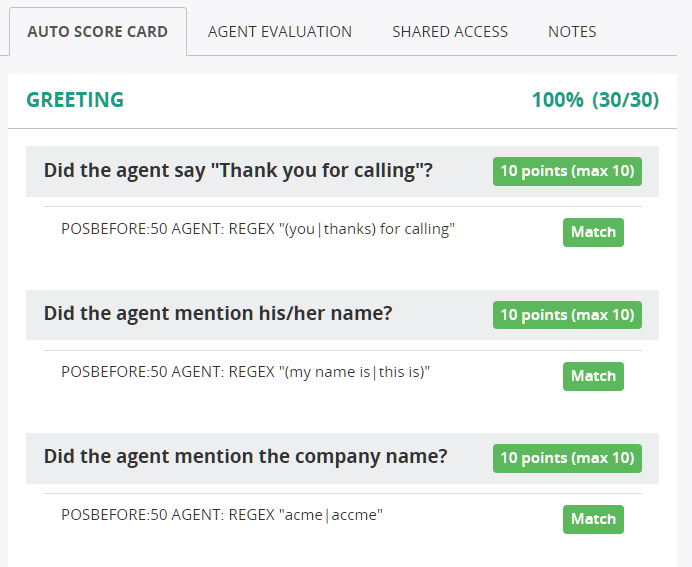 For example, if the MiaRec Voice Analytics algorithm found the preset keywords "my name is ..." or "you are speaking with ...", the agent gets a positive score on using their name. This is color-coded green or orange to connotate the outcome. This way, you can quickly identify what contributed to the quality of the score.
You can even click on the Voice Analytics tab and click on the keyword related to the score and view the transcript or re-listen to that segment of the call. If you would like, you can perform another auto-scoring on the same call, using a different form, or head over to the Agent Evaluation tab and manually evaluate the call.
Setting Up The MiaRec Auto Score Card
Setting up the MiaRec Auto Score Card is as easy as using it. Just go to the admin dashboard and create a new Auto Score Card or edit an existing one. Depending on which team this form is for, you will have specific criteria you want MiaRec to listen out for.
Simply create the sections, add questions, and add the keywords that will enable MiaRec to decide the score. For example, you could start with:
Did the agent use the prescribed greeting? [agent: "Good morning/afternoon/evening! Thank you for calling [company name]. How can I help you?"]
Did the customer request to speak to a supervisor? [customer: "speak to the manager", "speak with your supervisor", ...]
Did the agent resolve the issue? [customer: "Thank you for your help", "That helps a lot", ...]
Did the agent thank the customer for calling? [agent: "Thank you for calling."]
Was the agent actively listening? [agent: "Let me repeat/clarify", "Correct me if ... wrong"]
Once the questions and keywords are set, you now need to assign weights per section and question. For example, for some organizations, the correct greeting is part of the brand (Disney's "Have a Magical Day!" comes to mind) and will be scored higher. For others, announcing that the call is being recorded is essential.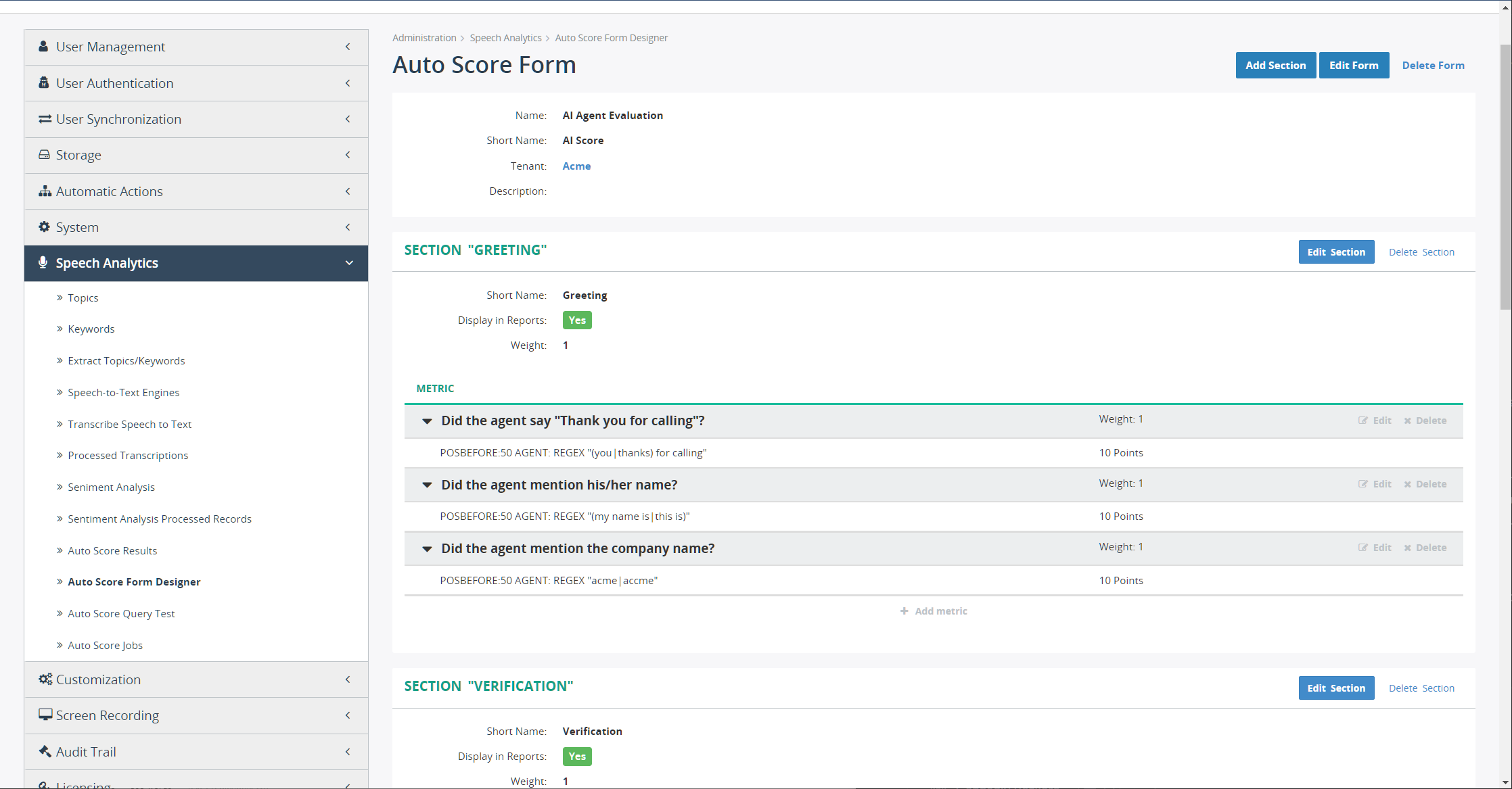 In some industries, like financial services, your agents will need to use the exact word-for-word verbiage for compliance reasons or you will risk big fines. If this crucial section hasn't been met, you can score a call as a complete failure and receive an alert immediately so you can monitor and better train the agent.
We recommend viewing these forms as living and breathing documents that should be reviewed and continuously fine-tuned over time because the algorithm is AI-driven — it constantly learns and improves — resulting in better and more valuable analytics.
We are thrilled to watch our first pilot customers benefit from the tremendous advantages MiaRec Auto Score Card provides them with! Contact us today for a demo or sign up for a free trial to experience this new tool for yourself.