Training The Virtual Contact Center

6 min read
June 24, 2022 at 7:40 AM
Cisco Live! Was an eye-opening and exciting event for our team, and the feeling on the ground was electric. With everyone holed up in virtual participation the past few years, it was nothing short of a high energy reunion, complete with live acts, a moving stage and most of all, Cisco's theme: All In.
A major component of the All In theme was inclusivity on every level, especially when it comes to the growing remote workforce. Presenter after presenter nailed home the point that our customer service operations are evolving into dynamic contact centers built from hybrid parts. How can we train agents working in dramatically different environments to provide quality service no matter where they reside?
The Setting: We're Not All In The Same Room Anymore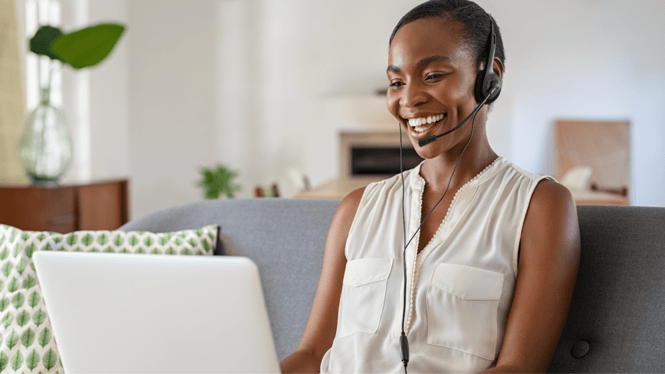 We've all installed one or more remote connectivity applications somewhere in the past few years. That's because almost all of us have had to move off site at some point and set up an environment conducive to work in our bedrooms, spare rooms, basements, or that home office you are already fortunate enough to have. This shift came with its own set of challenges, many of which major enterprises have been working to meet.
Many recent trade shows including Cisco Live! have included speakers talking about inclusiveness for remote workers under the banner of a larger topic, digital equity. Digital equity primarily looks to provide underserved communities and segments of the population with broadband tools.
However, inclusiveness isn't just an issue of economics; it's now a growing concern in commerce at large. There's a missing spark in a meeting when some of the participants feel distant and separated by digital walls. Digital equity initiatives aim for inclusiveness in the hybrid workspace so that we can restore collaboration to the quality it had back when we were all in the same room.
But that should be easy, right? You and your team already know each other so well, you have a shorthand that lets you rapidly communicate ideas whether you're in the same room or virtually conferencing with each other. For the most part, setting up remotely has been a success for you and your team. But what about when new team members join on?
The Challenge: Onboarding Remote Employees
Your author recently started working for a great new company, and this blog is most likely being read on their website. This company is full of dynamic and highly motivated individuals. I'm not just selling, I left a decade of freelance work that did me just fine to join these folks. Oh, and I asked them to hire me. That's how fantastic I think they are. But what's the point of all this love-fest verbiage I'm throwing at you?
Despite this company being filled with the smartest technical minds I've encountered in a very long time, despite the friendliest and most accommodating of human resources departments, and even in the light of the insights of our incredible marketing team that I'm speaking with every single day, onboarding has been a bit of a comedy of errors because I live far away.
How can a company that's taking such phenomenal care of customers all over the place bump its head repeatedly just setting up a new employee? I'm here to tell you that it's nobody's fault. Blaming my company or indeed any company for not knowing exactly how to bring a new person in without physically bringing a new person in is like blaming Marco Polo for not knowing his way around the Silk Road before he'd ever set foot on it. How the heck can anyone know what no one knows?
Don't get me wrong, great minds pivot quickly and problems get solved on the fly, which is exactly how my onboarding here at MiaRec has gone. But it forces us to examine our processes. And we're not the only ones examining our processes. Fortune 500 and 100 Enterprises have had to undergo uncomfortable adjustments in re-learning how to train their new employees.
Here at MiaRec, we give constant thought not only to how our product can enhance your organization but to how your organization operates even before you adopt our platform. We've learned that no two organizations operate identically and that even business units within a single organization can be vastly different, operationally speaking.
So, how are your new employees supposed to learn your internal policies, your customer service practices, security measures, and compliance procedures?
Call Recordings: Use the Gold Mine You're Already Sitting On
Onboarding people that aren't in the same room as you presents a massive challenge. Trainers quickly realize how much they rely on eye contact, tone, body language, and hanging over the trainee's screen to point at stuff. That last one means a lot to a trainer once they have to start describing parts of the screen instead of simply gesturing to them.
But there's a saying, which is "don't tell me, show me," and when you have a body of call recordings, you can show in a way that leaves a lasting imprint on your new recruits. Your call recording platform should have the analytical power to categorize and organize your call volume which empowers you to form a "show me" curriculum built for rapid and impactful onboarding. And so we're clear, let's flesh out how that would work a bit.
Training: Successful vs. Unsuccessful Calls
Every company has its own rubric for measuring the success of an interaction. Since these measurements can vary widely, let's look at a couple that seems to be a common thread across most enterprises. Take call links for example. Most contact centers have a goal of closing calls in a timely fashion. Using your call analytics platform, you could identify positive customer interactions that ended on time, and calls that took too long. You could further narrow down your list of calls if your call platform also includes a scoring application.
You would then compare timely and successful calls with overlong unsuccessful calls to point out the actions undertaken by the recorded agents. This allows your trainee to see and hear first-hand, real-world examples through a method that's been proven to effectively teach people in multiple disciplines and industries.
Training: Types of Customers
Your call recording platform's keyword ability should be able track the customer and agent speech of each call separately while you search for customers' types based on language. Phrases like "thanks so much" and "I appreciate it" from a customer often indicate a positive call outcome. On the flip side, phrases like "very frustrated" and other colorful expressions we forego printing here will lead you to negative customer calls.
Once you've identified both types of call, add your call scores to the process. Just because a customer was hostile on a call doesn't mean the call wasn't a success. High-scoring calls with negative customers are bound to be filled with highly professional agent practices you'll want to highlight to your initiates. In case you're wondering what to use from calls identified with already happy customers, turn your attention back to the call link. Happy customers should typically be easy to close in a timely fashion, but chatty and overly personal agents sometimes waste company time on friendly customers. Teach your new recruits the balance of great service and call closing by utilizing your call volume.
This Call May Be Monitored for Quality and Training Purposes
We tell our customers all the time how the call may be recorded or monitored for quality and training purposes, but there's never been a time when it's been needed more. There are so many ways to utilize call recordings to train your agents, but there's an added feature still lacking in many call recording platforms: live monitoring. There's probably nothing more revealing than listening to your new recruits in action.
Being able to listen in on an agent's call opens up coaching opportunities, but it also lets you see how the agent operates when working without your oversight. The key to breaking down the digital wall that hybrid work builds between manager and agent really comes down to using every tool at your disposal. Combining what you've learned from your call recordings with live listening to active calls can help build a successful onboarding process for the modern contact center.
There may also be a hidden benefit specifically to contact centers in building a mindset around hybrid and remote workers. Contact centers are famous for widespread turnover rates. Few industries see as many employees go as quickly as they come than customer service. However, remote working has had an impact on employee retention of which contact center managers should take note. You may ultimately train fewer agents and hold on to the ones you prize for a lot longer by allowing them to work remotely. All the more reason to build a solid onboarding process using your call recording and analytics platform.
No Comments Yet
Let us know what you think