What is the difference between WFO, WFM, WEM, Conversation Intelligence & More

5 min read
February 14, 2023 at 2:31 AM
Are you looking to upgrade your contact center software but struggling to navigate all the different terms describing various market segments? Do you not fully understand the difference between WFO, WFM, and WEM and how Customer Engagement platforms fit into all this? If so, you are not alone.
Here at MiaRec, we serve more than 1,000 companies, financial institutions, and government agencies worldwide, and the confusion is REAL! It is almost impossible to keep up with the constantly changing terminology and market segmentation.
In this article, we try to pick apart the different industry terms to show how they relate to each other and the market segment they cover. By the end of this article, you will have a better understanding of which solution might be right based on your organization's needs.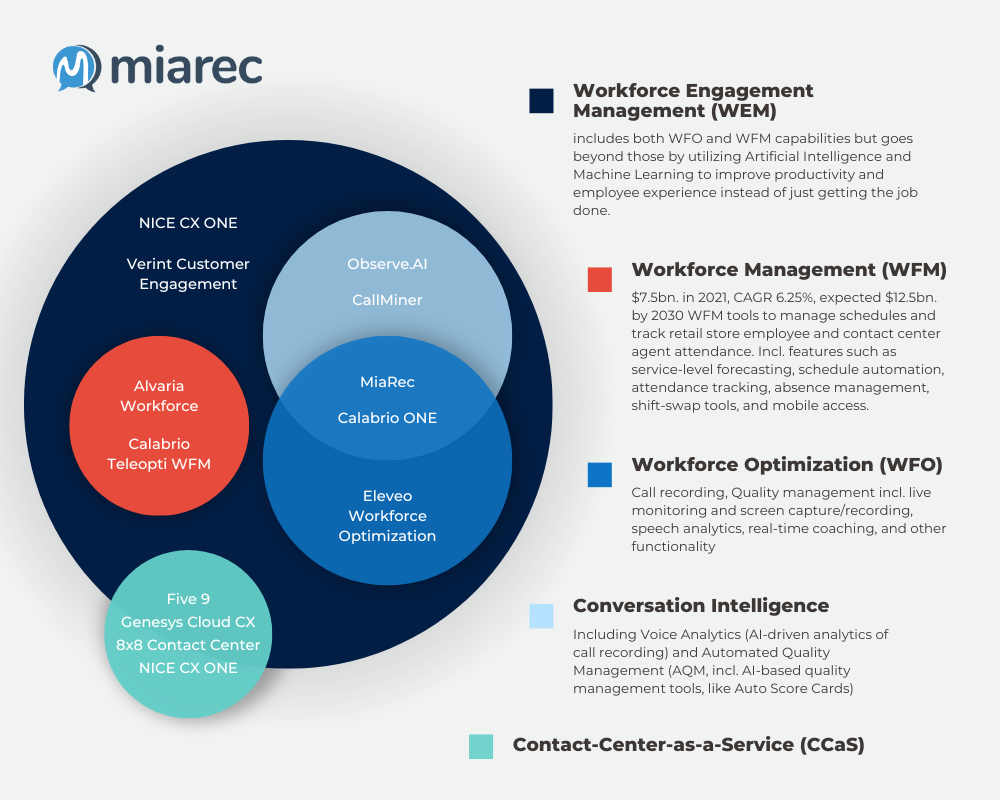 Image: Market Segmentation by WFO, WFM, WEM, Conversation Intelligence & CCaS
Workforce Optimization (WFO) & Workforce Management (WFM) Are Often Confused
For years, Workforce Optimization (WFO) and Workforce Management (WFM) have been incorrectly or interchangeably used, adding much to the confusion of buyers.
Workforce Optimization (WFO)
A while back, Gartner coined the term Workforce Optimization (WFO). Traditionally, WFO included call recording, live monitoring, screen capture, Quality Management (agent evaluation that consisted of software-supported scorecards, feedback, and performance reporting), and different analytics and reporting capabilities.
It is important to note that speech analytics (which normally includes transcription, sentiments, topics, auto-score cards, and data redaction) is not a part of Workforce Optimization and is sold as a stand-alone product.
Workforce Management (WFM)
In addition, the analyst firm (Gartner) created an adjacent category called Workforce Management (WFM) which included tools for building, managing, and automating employee schedules, tracking attendances and absences, service-level forecasting, shift-swapping, and mobile access specifically for contact centers and other busy workplaces In 2021, this market was worth $7.5bn. with a CAGR of 6.25%. It is expected to grow to $12.5bn. by 2030.
WFO and WFM terms are confusing customers
While both terms refer to distinct tools with some overlapping functionality, they are often used interchangeably, which is very confusing for customers. Interestingly, ServiceNow, for example, uses the term Workforce Optimization (WFO) to describe their product that, according to Gartner, must be named Workforce Management (WFM) instead. This is just further proof that WFO and WFM are confusing terms.

Market-leading companies, such as NICE, Verint, Calabrio, and MiaRec, that traditionally operated in the WFO space, have therefore stopped using the term and are now naming the above-mentioned modules as "independent" features rather than as a single suite.
It is important to note, that some older Workforce Optimization vendors, e.g., Eleveo and Calabrio, used to offer Voice Analytics as a stand-alone product in addition to their WFO suite (medium blue in the diagram). Calabrio now includes Voice Analytics into their WFO suite, Calabrio One, as does MiaRec (overlapping medium and light blue in the diagram). Observe.AI and CallMiner are not offering traditional QM capabilities as part of their WFO suite (light blue in the diagram).
What about Customer Engagement?
It is worth mentioning that, for a while, vendors who recognized this issue tried to rebrand their evolving solutions that had now outgrown the WFO/WFM definitions as Customer Engagement solutions. While Verint is still defining itself as a Customer Engagement company, almost all other vendors have moved to either using Workforce Engagement Management (WEM) or similar terms describing standalone features of the product as described above.
Workforce Engagement Management (WEM) Emerges, Replacing WFO & WFM
Recognizing this market trend in addition to the continuous improvements and enhancements of capabilities of WFO vendors, Gartner defined a new market called Workforce Engagement Management (WEM) which emerged from the Workforce Optimization (WFO) and Workforce Management (WFM) markets.
While WEM includes the capabilities you traditionally found in WFO and WFM, it goes beyond those by utilizing Artificial Intelligence and Machine Learning to improve productivity and employee experience instead of just getting the job done. WEM has an employee-centric focus that WFO and WFM were lacking. This focus helps counteract high turnover rates and satisfy the changing demands of a younger generation of agents.
Solutions under this banner, according to Gartner, include tooling, features, and capabilities for "recruitment and onboarding, evaluation and improvement, time management, assistance, and task management, metrics and recognition, and the voice of the employee (VoE)."
Although established, long-time market leaders are still dominating the market, innovative niche vendors, contact-center-as-a-service providers, and customer engagement center software solution suppliers are becoming viable alternatives on procurement shortlists.
💡Key Takeaway:
Workforce Optimization (WFO) allows you to monitor and act on customer interactions based on their content (via quality management and speech analytics), while Workforce Management (
WFM) ensures you have the right resources at the right time to provide the best customer experiences. Both are being phased out and replaced by Workforce Engagement Management (WEM) which offers you tools to increase customer service employees' happiness and productivity to allow them to build long-lasting customer relationships.
Conversational Analytics vs. Conversation Intelligence
Over the past 12-18 months, with the rapid advancement in Voice AI technologies, Cloud-first competitors (such as Observe.AI, CallMiner, and MiaRec) started to describe themselves as Conversation Intelligence or Conversational Analytics, creating two new market segment definitions that are rapidly gaining traction. They are two distinct solution approaches that have an overlapping set of functionalities but are often confused.
Conversation Intelligence and Conversational Analytics solutions include Speech-to-Text Transcription, advanced AI-driven Voice Analytics (Keywords Analysis, Competitor Insights, Topics and Trends, Sentimental Analysis, and more), Automatic Data Redaction for PCI-DSS compliance, and Automated Quality Management.
The difference is that Conversation Intelligence focuses more on analyzing transcribed call recordings (speech), while Conversational Analytics also includes emails and conversations in chatbots, WhatsApp, Facebook Messenger, and other omnichannel communication technologies. For example, MiaRec defines itself as Conversation Intelligence, while CallMiner fits best in Conversational Analytics.
Speech & Voice Analytics
Finally, let's have a look at Speech Analytics vs. Voice Analytics. Theoretically, Speech Analytics refers to the AI-driven topical keyword extraction and analytics of transcribed call recordings, while Voice Analytics focuses on tonality and pitch to determine customer and agent sentiment. Both have their advantages and disadvantages. However, Voice Analytics and Speech Analytics are interchangeable nowadays as no vendor relies solely on tonality anymore as it is too inaccurate.
Conclusion
What is the best approach to equip a modern contact center for today's challenges? Our customers find it most helpful to combine traditional WFO and add Conversation Intelligence. This gives you all the traditional features and capabilities you need, like call recording, screen capture, manual scorecards, and so on, while allowing you to take full advantage of AI-driven Voice Analytics and automated quality management features, like Sentimental Analysis and Auto Scorecards.
While it is impossible to cover all the industry terms currently used in this market, we hope that, with the definitions and the historical context we've shared, you are now able to determine better which solution fits your needs.
No Comments Yet
Let us know what you think